X-Touch Mini for Flight Simulation
Since I was a kid, I've loved aviation. Being poor and all, I could never dream of pursuing it in real life, so flightsimming has been my "cheap" fix for many years. I put cheap in quotes because this is an expensive hobby, even if you don't overdo it. Although I spend quite a lot of money on software, I try to keep things in check on the hardware department, as flightsim equipment can be very expensive. For GA flying, it would be great to have a G1000, but at $2,199 USD, that's a no from me.
Also, I've long flown the Boeing 737NG series, and setting up the MCP (the autopilot panel) with the mouse is quite the immersion killer, not to mention quite hard during busy phases of a flight. But € 1,299 is also not worth it, in my opinion.
That said, I'd really like some hardware controls. And that's when I ran into the Behringer X-Touch Mini. The X-Touch Mini is not made for flightsimming, though; it's a MIDI controller and as such, it doesn't have the "niche tax." I got it from Amazon at $180 CAD.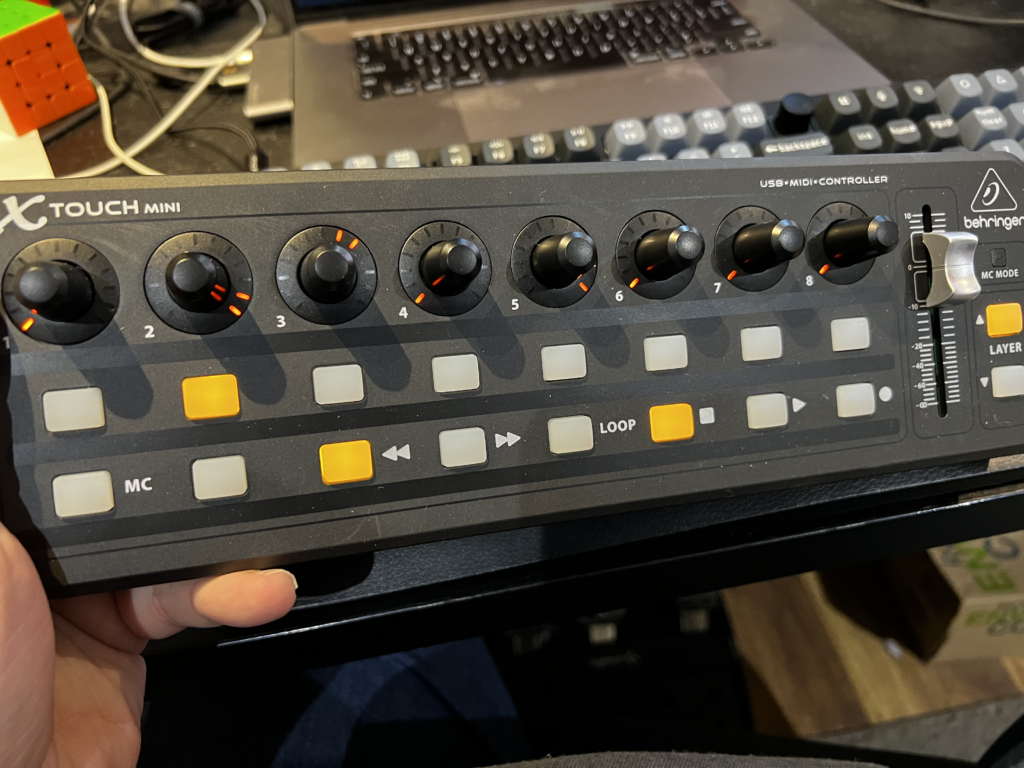 With some tinkering, I could make this control many planes, from the B737 to the Twin Otter. It's great. I've long used SPAD.neXt to control all my planes for two reasons:
I like tinkering with LVARs and also most third-party planes don't expose all their controls to the simulator
I like the fact that it autoswitches to the correct control profile for whatever plane I'm using
As an example, here's how I set up a knob to control the checklists on the Honda Jet.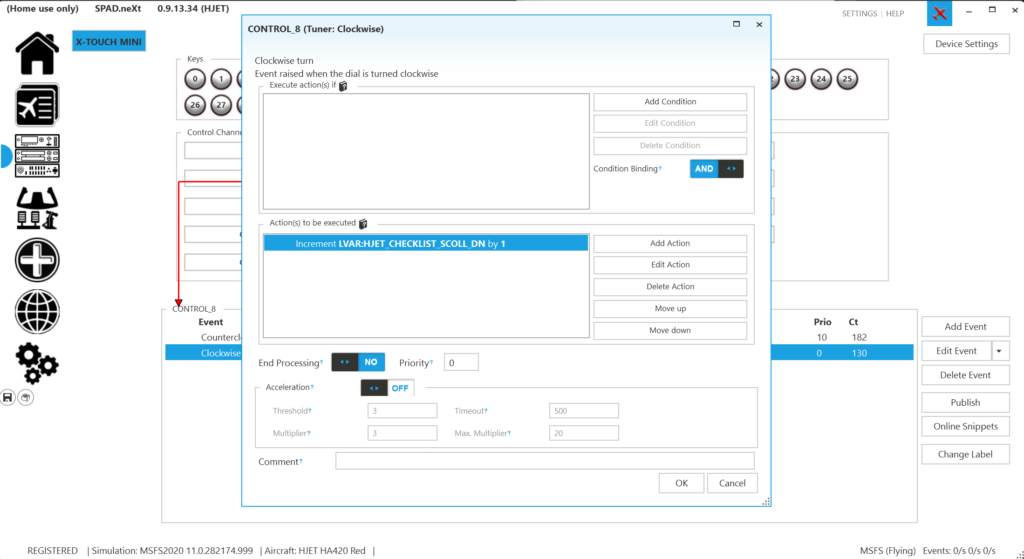 It's amazing! Also, I've been flying the ATR72-600 lately. Great plane! Also, it is similar enough to the Bombardier DHC8 (a.k.a. Dash-8) that it scratches my itch to fly regional Canadian routes, so I followed the excellent Les O'Reilly's tutorial on setting the X-Touch Mini up for the ATR 72-600. Seriously, if you want to learn SPAD.neXt, check out his channel, it's great.
However, I ran into an issue.
X-Touch Mini Leds not working
I could not get my leds to work with SPAD.neXt. No matter what I sent to the channel, the leds would not respond. I rewatched Les' video, searched forums all over and never saw anyone having the same issue. I started suspecting a hardware problem. Eventually, I downloaded the editor from the Behringer's website, solely for the purpose of seeing if I could get the leds to activate with it, to discard a hardware issue. This is when I found this —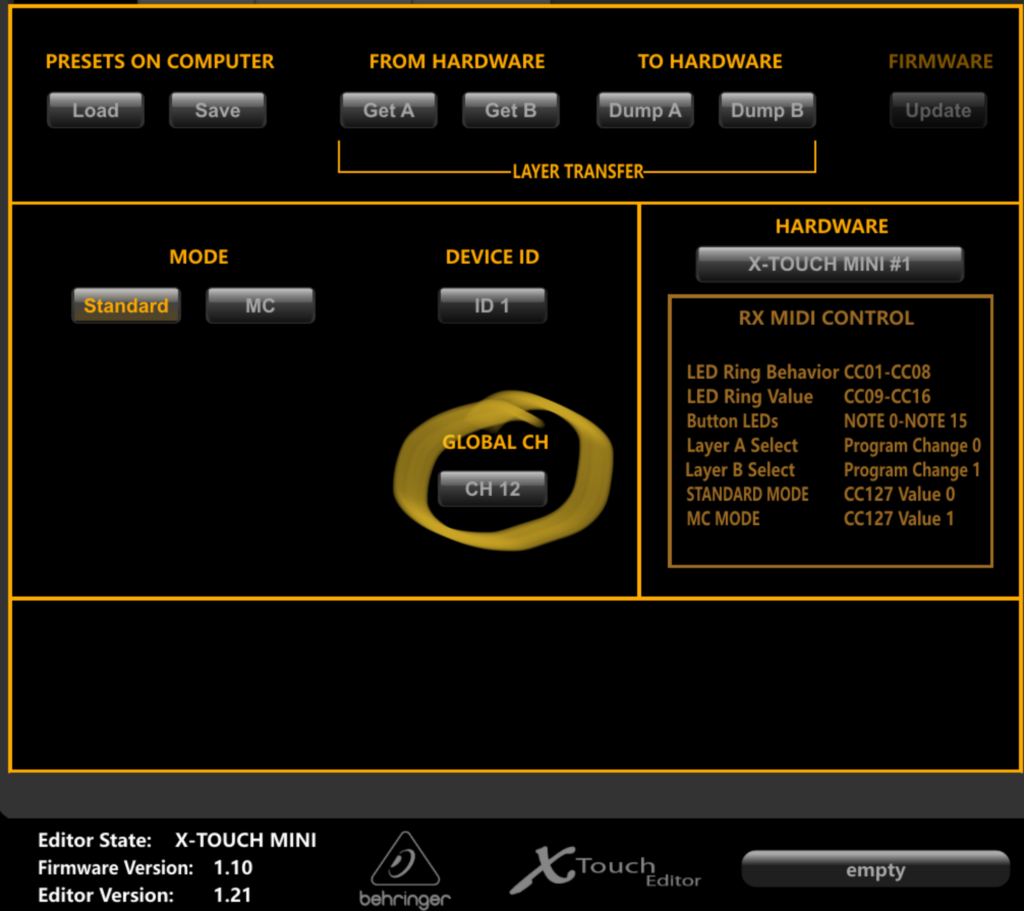 For some reason, my X-Touch Mini came with the global channel set to channel 12, instead of channel 1 as, it seems, is the normal setting. This is why none of the settings worked, so if you run into the same issue, now you know. So to fix this, there are two possibilities:
Change all your SPAD.neXt settings to send the command to channel 11 (the channels are actually 0-based, so channel 12 in the UI is actually channel 11 in SPAD.neXt); or
Change the global channel in the Behringer editor to 1 — which will be default channel 0 in SPAD.neXT. This is what I've done.
Once that was done, everything worked perfectly. The LEDs change status even if a channel happens inside the simulator, so you can rely on them to know the current status of your automatics and navigation/comms. Really happy with the setup.